About Super Suds Pressure Washing - Your Trusted Charlotte Pressure Washing Company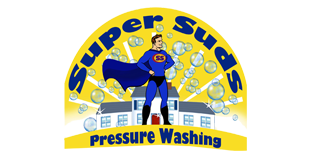 Super Suds Pressure Washing has been a valued, trusted, and highly-rated pressure washing company in Charlotte for over 25 years. Since 1998, we've worked hard to serve the local community that we live in and love. It's our pride and our pleasure to serve our clients and their properties every day with the best pressure washing in Charlotte.
Our founder, Justin Ennis, started Super Suds Pressure Washing with a mission to provide excellent service at fair prices and go above and beyond to make our customers happy. After all, a good pressure washing company can take a lot of time and stress out of maintaining a property, but people won't seek out a pressure washing company if they can't find one they trust! Throughout our history, our business has stayed family-owned and operated and remains committed to its mission of taking five-star care of our customers at a reasonable price!
We are a family-owned and operated business with a reputation of excellence, trustworthiness, and dependability that constantly strives for complete customer satisfaction. With our pressure washing services, Super Suds Pressure Washing relieves property owners' burdens of having to clean the exterior of their homes and businesses. We work hard to perform our duties in a professional and timely manner with respect toward our customers, who can take comfort in knowing that our pressure washing company takes pride in our work.
We want our customers to be a part of the Super Suds Pressure Washing family for life. Whether it's services like house washing to spruce up your home or commercial pressure washing to brighten up your business, you can depend on Super Suds Pressure Washing for outstanding, dedicated service. Give us a call to request a free estimate for our amazing pressure washing work today!
Make Each Property Clean
With Our Charlotte Pressure Washing Experts!