Charlotte's Finest Deck Cleaning Professionals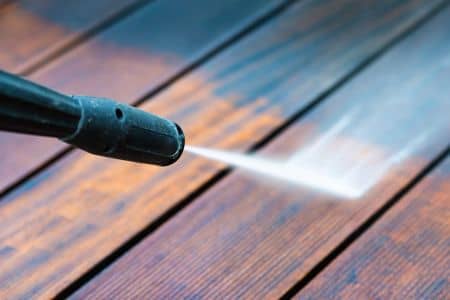 Step out onto a deck you can relax on and enjoy, all year long! Deck cleaning doesn't have to be a huge burden with Charlotte's best pressure washers on the case. Super Suds Pressure Washing takes the stress out of keeping your outdoor living spaces clean and comfortable with our helpful deck cleaning.
We clean decking materials of all kinds, from soft pine to hardwoods, vinyl, and composite surfaces. Our pros always customize their approach to fit your deck's particular design for the fastest, safest, and most effective deck cleaning possible. When we're through, your outdoor living spaces will be clean, healthy, and completely rejuvenated for you and your family to enjoy!
Porch Washing For Clean, Easy To Enjoy Outdoor Areas
When you want to step out on your porch at the end of a long day, you don't want to be met with dust, dirt, and grime. It's hard to get comfy in a place that's grimy and gross. Nevertheless, it's easy for homeowners to inadvertently let their porches and other outdoor spaces grow dirty over time until the mess grows too much to ignore.
Exterior maintenance can be tough and time-consuming, which is why we're here to help. Our deck cleaning service refreshes and cleanses your deck or porch until you have a space you can fully enjoy once more!
Surface Cleaning To Best Care For Your Deck Investment
Dirt, grime, and slimy algae and mildew growth can really do a number on your deck. Not only does it mess it up aesthetically, but it can also make your deck slippery while speeding up decay, causing the material to soften, rot, or deteriorate. Regularly cleaning and pressure washing your deck removes harmful substances that could compromise your deck's health, preserving your deck investment and helping it stand the test of time.
Frequently Asked Deck Cleaning Questions
High pressure cleaning, like the kind we use for driveway washing and other concrete cleanups, can help with deck cleaning in moderation. That being said, it's best not to expose your decking materials to lots of extreme pressure washing, especially softer materials like pine. To clean decks safely, our technicians usually opt for low-to-moderate pressure cleaning, carefully working stains out of our clients' decks without potentially exposing them to damaging pressure levels.
If your deck is slippery, it most likely has some algae or mildew growth going on. It's pretty common on a lot of decks, especially when they haven't been washed in a while. Not only do these organisms make your deck hard to walk on, but they can also cause decay. It's best to get that slipperiness cleared up ASAP with a good pressure washing!
Different decking materials may need slightly different approaches when it comes to pressure washing; especially softer surfaces that need gentle cleaning such as pine decking. We always tailor our deck cleaning service to your deck's materials to give you a custom clean that's a perfect fit for your property!
Make Each Property Clean
With Our Charlotte Pressure Washing Experts!