Paver Cleaning: Renewing Your Charlotte Hardscaped Surfaces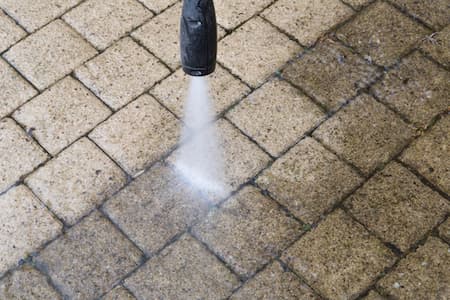 Stunning hardscaping can make any property look special, especially when it is bright, clean, and spotless! With Super Suds Pressure Washing's paver cleaning, you never have to break a sweat to make your Charlotte hardscaping look like a million bucks (for a fraction of that price)! Our paver cleaning service, along with other great outdoor cleaning services such as pool deck cleaning and patio washing, will ensure that your home's outdoor spaces look great and stay super clean!
Pressure Washing Pavers To Rejuvenate Your Exterior Stone
Even the best-looking pavers are no match for the unstoppable force of the elements- that is, not without paver cleaning! Good pressure washing can undo the nasty work that the environment does to your exterior stone surfaces, cleaning and rejuvenating them. Our paver cleaning service can:
Get rid of ugly stains and discoloration
Kill off invasive organisms like algae, moss, and mold
Wash away dirt and grime
Extend your pavers' lifespan and slow down deterioration
Sanitize the surface of common allergens, bacteria, and mold
Perfect Your Ideal Outdoor Living Spaces
Pavers are rustic, classy, and timeless. In good, well-kept condition, they can complement a variety of different designs and styles, making any outdoor living space truly special. The biggest hurdle that most homeowners faced with paved hardscaping is keeping it clean and in sturdy condition! Our paver cleaning service removes harmful mess to help your pavers avoid unsightly stains and slow down the gradual breakdown of your paver hardscapes.
If you need the best pressure washing for Charlotte locals, you're always in good hands with Super Suds Pressure Washing. Our paver cleaning will protect your outdoor hardscaping, leaving your outdoor spaces in healthier, more attractive, and longer-lasting condition!
Frequently Asked Paver Cleaning Questions
With most outdoor hardscape surfaces, we recommend you try to aim for a twice-yearly cleaning regimen. As far as the best time of year for cleaning goes, we recommend aiming for springtime and fall. That way you'll ensure that you get both a good spring cleaning and a post-summer spruce up to wash away algae and mold spores!
We won't let your landscaping come to harm. We commonly have to clean around landscaping in our line of work, so we've always been very careful about working carefully and protecting our clients' landscaping as we clean. Our paver cleaning service will leave both your hardscaping and your yard in pristine condition so you can enjoy your ideal outdoor space!
Make Each Property Clean
With Our Charlotte Pressure Washing Experts!