Concrete Cleaning To Keep Your Charlotte Business Looking Great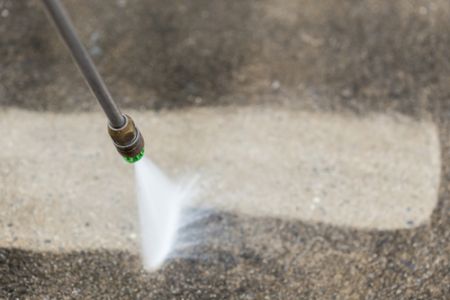 Keeping your Charlotte business property fresh is simple and stress-free when you use Super Suds Pressure Washing's concrete cleaning services! Maintaining clean, safe, and visually striking pavement has always been a struggle for property owners, as it requires some serious pressure washing upkeep. With our dedicated concrete cleaning service, we'll flawlessly clean and care for your property's paved surfaces for great curb appeal and good overall property health.
Pavement Cleaning: Upgrade Your Commercial Property's Visual Appeal
Curb appeal is a crucial factor for any business's success. It sets it apart from the competition and leaves a good impression on its clients. While homeowners invest time and money into important services like building washing and storefront washing, they should remember not to neglect their pavement when it comes to their overall curb appeal upkeep.
Like any concrete surface, sidewalks and paved patios have a bad habit of growing discolored and holding onto stubborn stains. While your sidewalks might not be your property's biggest focal point, they're something that your clientele walks over and sees every day, and gross walkways can leave an unpleasant impression.
Don't let nasty sidewalks be the fatal flaw to your business's visual appeal! Our concrete cleaning experts will eliminate discoloration and work out even the most stubborn stains until your sidewalks look as good as new!
Sidewalk Cleaning To Best Maintain Safe Walking Paths
Concrete cleaning isn't only about maintaining good curb appeal; it's also helpful for keeping your property safe. Dirty, slimy walking paths can be slippery and unsafe for pedestrians. Additionally, slimy sidewalks can be potent growth mediums for mold and bacteria, and can even contribute to the deterioration of your concrete itself.
A little maintenance goes a long way in keeping your property safe. With proper, thorough concrete cleaning, our experts will remove treacherous slimy patches from your walkways, eliminate any toxic organic growth, and extend the lifespan of your sturdy concrete surfaces!
Frequently Asked Concrete Cleaning Questions
Absolutely. Our concrete cleaning is a fast and effective way to get even the most stubborn, uncooperative stains out of your paved surfaces. Our pressure washing techniques penetrate through the dense surface to flush out stubborn substances and restore your concrete's appearance. We're the team to take your sidewalks "from green to clean!"
Of course! In our driveway washing work, we encounter grease, oil, and other automotive fluids all the time. We use special detergents and cutting-edge equipment to break those substances down and wash them out of your driveway's surface, preserving your concrete's structural integrity!
Yes. Uncleaned sidewalks, especially in shaded areas, can become overgrown by mildew and algae, which makes the surface slippery and unsafe to walk on. Furthermore, without regular cleaning, your sidewalk can fall into disrepair as the concrete starts to crack and shift. Our concrete cleaning washes away slippery messes and protects your concrete's integrity.
Make Each Property Clean
With Our Charlotte Pressure Washing Experts!