Patio Cleaning For Charlotte: Worry-Free Exterior Surface Care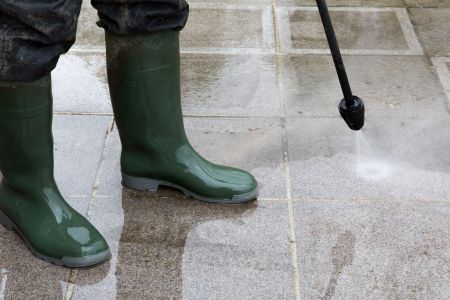 Super Suds Pressure Washing takes the stress and sweat out of maintaining attractive outdoor surfaces with our patio cleaning service. Offering our clients some of the best exterior cleaning services in Charlotte, our pressure washing crew will clean up your patio to bring you a relaxing outdoor environment that you can enjoy!
Keeping up with exterior cleaning is hard, especially when it comes to surfaces like your patio. Rather than stressing over your hardscaping by yourself, leave the tough stuff to the pros! With helpful cleanup services like our deck cleaning and patio cleaning, you don't even have to lift a finger to get spotless outdoor living spaces. Turn to Charlotte's favorite pressure washing team, and let our patio cleaning pros restore your hardscapes "from green to clean!"
Outdoor Entertaining Space Cleaning Professionals: Carefully Cleaning Your Outdoor Spaces
With a little bit of TLC, your patio can become your home's ultimate outdoor entertainment space; a perfect place to gather on and enjoy when the weather is nice. All it takes is a bit of good maintenance to keep ugly stains away and protect your pavement's health.
Our patio cleaning experts are pros at rejuvenating outdoor spaces to perfection. Carefully cleaning over delicate materials and washing safely around landscaping, our professional sprucing-up will make your patio look picture-perfect for you, your family, and your guests to enjoy!
Outdoor Living Area Washing For Stress-Free Exterior Spaces
Struggling to get rid of those problem stains, or just having trouble finding the time to get exterior cleaning done? Super Suds Pressure Washing is here to take the stress out of maintaining stunning home exteriors. Working with our clients to provide five-star service at fair prices, our dedicated team strives to totally satisfy our clients, every time. We'll take the stress and worry out of caring for your patio- you get to kick back and reap the rewards!
Frequently Asked Patio Cleaning Questions
If your patio is made of a particularly dense material like concrete or pavement, high pressure washing is generally safe to use. When it comes to other materials like brick, stone, or pavers, though, a somewhat more delicate approach may need to be used. Our cleaners always take your patio's materials into account, customizing our techniques to deliver a safe and spotless clean!
Certainly! We wouldn't be very good cleaners if we spruced up your patio but left your lawn in shambles. We are always very careful when cleaning around landscaping. We use biodegradable cleaners and take extra precautions to protect your landscaping while we work. With lush, thriving landscaping and a sparkling-clean patio, your yard will look picture-perfect!
For your patio cleaning regimen, a good rule of thumb is about once every year, ideally in the spring or the summer. Some homeowners may prefer it two times a year or more if their patio tends to get dirty fast- for instance if they have a lot of mud or foliage on their property. We can help tailor your ideal patio cleaning regimen to your preferences!
Make Each Property Clean
With Our Charlotte Pressure Washing Experts!