Busting Common Pressure Washing Myths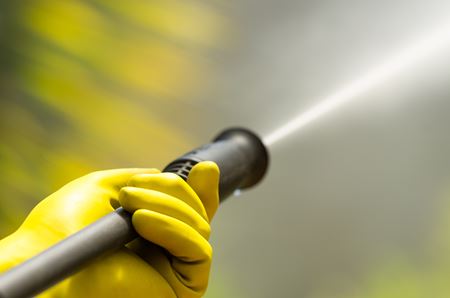 If you've never used a pressure washing service before or haven't tried pressure washing yourself, you might have a few questions about how it all works. You're not alone- a lot of first-timers have tons of questions about pressure washing or may have heard some things that aren't entirely true.
We've been in this business a long time, and we've heard quite a lot of these questions over the years. While addressing all of them here would be impossible, we thought we'd start by busting a few of the most common pressure washing myths we're used to hearing.
Myth: Pressure Washing Is Unsafe For My Home/Deck/Porch/Etc
Usually, this one gets brought up after people have had a bad experience with a previous contractor, or had a DIY pressure washing go awry. There is some truth to this one- high-pressure levels can be potentially harmful to certain materials, especially when concentrated into a tight pressure washing blast as opposed to a fanned-out spray. Trying to pressure wash a home's sidings the same way you'd pressure wash a driveway definitely isn't safe.
However, that doesn't mean a pressure washing crew can't safely complete jobs like house washing or deck cleaning. We have options for cases where we need to clean softer or more delicate surfaces like pine wood decks, stone pavers, or wooden siding. To keep our cleaning safe, we often use techniques like soft washing (low-PSI pressure washing) to produce a clean that's still strong enough to take out tough messes but safe to use on your exteriors without harming them.
Myth: Pressure Washing Uses Lots Of Harmful Chemicals
We can't speak for every pressure washer out there, but generally speaking, pressure washing is actually very eco-friendly. There are lots of jobs we can complete using nothing but plain old water- no chemical detergents at all! In cases where detergents are needed, such as for killing mold or removing grease stains, we use biodegradable cleaners in limited amounts to get the job done safely without leaving behind any dangerous chemical residue.
Myth: My Property Has To Reach A Certain Level Of Uncleanliness Before Pressure Washing
Some people believe that they have to let their properties get seriously dingy before they think pressure washing is worth it. But that's not true at all! In fact, regular pressure washing can be a great form of preventative maintenance, removing debris and eliminating potential algae/mold growth before your exterior surfaces can be adversely affected by them.
Myth: Pressure Washing Is Easy To DIY
In the age of video tutorials and how-to articles, homeowners are taking lots of maintenance work into their own hands, including pressure washing. While there are a lot of things homeowners can DIY, pressure washing shouldn't be one of them.
In reality, DIY pressure washing is difficult, time-consuming, and potentially dangerous. Using the wrong pressure setting or the wrong nozzle can strip, warp, or otherwise damage your property's surfaces- to say nothing of the physical injury that can be caused if you accidentally spray yourself or another person. If you want great results quickly and safely, your best bet is to bring in the pros.
Conclusion
At Super Suds Pressure Washing, we always strive for total customer satisfaction. We work quickly, safely, and professionally to produce five-star results for our clients- and we're always down to answer their questions. If you'd like to book us for house washing, deck cleaning, or any of our other pressure washing services, call us at 704-634-6487 today!
Make Each Property Clean
With Our Charlotte Pressure Washing Experts!